The popular Music for Fun Ecas activity group was established in 2013 and has been making music and having fun ever since! The group is welcome to ALL and is a great way for you to explore your musical side, whether you have made music before or it's your first time.
We popped in recently to catch up and join in with our music makers.
The warmest of welcomes
There is always the warmest welcome from Music for Fun group's members. This week it was Kevin, Chris, Barbara and Ricco, and of course our fantastic musician and experienced Group Leader Akin Fatunmbi. Akin has been hosting the group since 2015 and loves this weekly highlight. It's easy to understand why he feels this. The atmosphere of the group is inviting, warm and gentle. There is much to smile and laugh about as we join in with the music and chat in between the songs.
Akin has a good selection of instruments for us to choose from. There's something for everyone. With such a great variety of people in the room, we cover a great range of music too, sharing tips and facts about favourite musicians and genres along the way.
Music for Fun is also a great way to learn about music and instruments in the best of company. In this session we were treated to the sight and sound of Akin playing a very beautiful mandolin.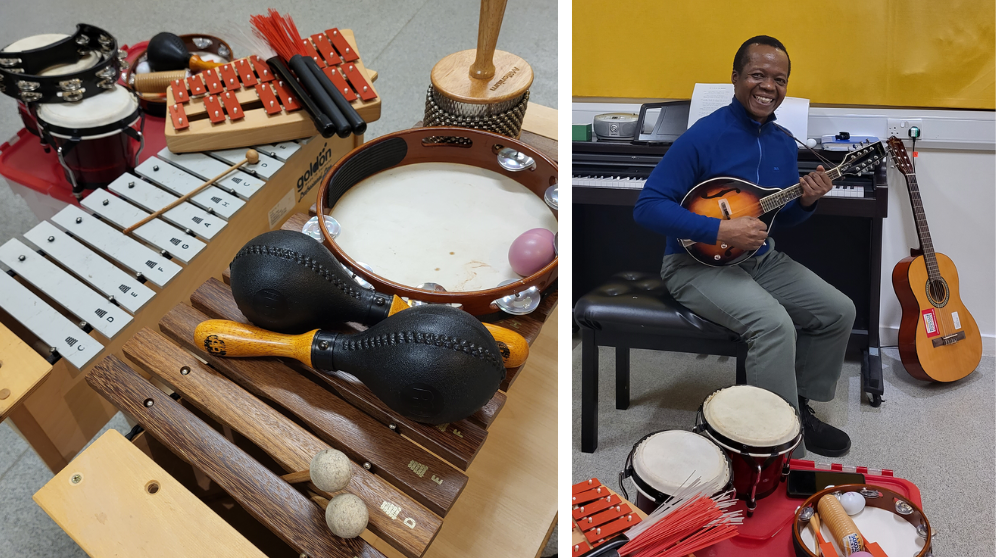 From ballads and musicals, to spontaneous improvisation!
Our Music for Fun group members come back week after week and year after year. Chris, for example, started with the group in 2014. He enjoys playing the bodhrán and xylophone, expertly tapping with his mouth-held beater. He also sings and speaks the lyrics. During this session, he led Let it Be by the Beatles. His gentle and moving version of this classic brought real meaning to the lyrics.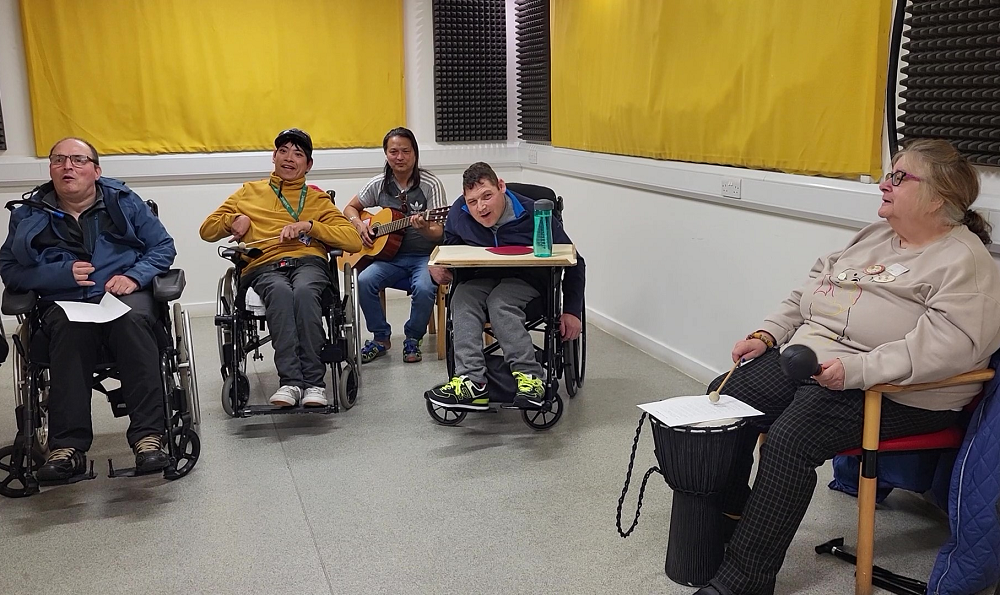 A change of pace and vibe, as Kevin joins in with percussion on a few songs, confidently providing maraca rhythm, as well as some great singing along, often changing the lyrics to comic effect! His brilliant energy and cheeky jokes add something extra to the group. He's been a member for a while, so is also able to remember songs and music from way back.
Ricco is a specialist with the cowbell and helps count in each number, whilst his support worker brings some guitar accompaniment into the mix too.
Barbara, also a Music for Fun regular for a good few years, likes the djembe-style drum and maraca, playing both at the same time and often singing too. Impressive!
This week, Chris had to leave early, so the rest of the group sent him on his way with a spontaneous and wonderful rendition of So long, Farewell from The Sound of Music. To our astonishment, Akin admitted he'd never the seen the film but promised us he's going to. The only one in the group to have homework to do! For the rest of us, it's been 2 hours of music, fun and a chance to express ourselves.
Who knows what's in store at next week's Music for Fun… other than more music and more fun!
Find out more about Ecas' Music for Fun Group
Fridays 2-3.30pm
Every Friday, Ecas' Music Group meet in-person at The Out of the Blue Drill Hall, Dalmeny Street, just off Leith Walk. This friendly and fun group, for people with a physical disability, is a great way for you to explore your musical side, whether you have made music before or it's your first time. We love welcoming new people and creating music together. Different people bring different experiences and each week the group responds to the needs and dynamics of the group.
Join us to enjoy,
trying out different instruments
playing your favourite instrument
singing and talking about songs
composing songs
creating new music
making music with others
We have many different instruments for you to play including guitar, maracas, tambourine, xylophone, glockenspiel, shakers, drums and various small percussion pieces. We love to sing together too!
 Our Music for Fun Group is here to help you,
connect with others in a positive and supportive environment
share your love of music in all its forms
gain confidence and explore your creative side
have FUN
All of our activities cost £2.30 per 2 hour session, new members are able to try an activity for two weeks for free. For those eligible, our grants can help pay activity fees and transport costs.
Contact us for more information or to register.