Sandro is Portuguese and moved to Scotland in 2015. When living in Lisbon he had a fantastic mutually beneficial experience as a befriender for many years. Earlier this year Sandro felt the time was right to volunteer again.
Following a stroke during the covid-19 pandemic, Sharon's mobility was severely compromised making it very difficult for her to get out independently. Having little contact with anyone other than professionals, Sharon found herself feeling quite lonely and isolated and was looking to get to know someone for friendship, chats, to share interests and maybe also to get out and about with. Sharon's speech was also affected by her stroke, and she was hopeful that through spending time building a friendship with someone, regular blethers and conversations would help her regain her confidence and skills in communicating again.
In good company
Sandro and Sharon have been meeting up regularly since May 2023 and are both thoroughly enjoying each other's company!
He listens, asks me to repeat things till he understands what I'm saying which is really good. No one else does that. Sandro's a patient, enthusiastic and really nice guy who makes me laugh and I look forward to him coming each week. – Sharon
Visits are relaxed and the couple spend time chatting and catching up on each other's week. They like feeding and watching the many squirrels and birds from Sharon's flat and playing a variety of trivia and general knowledge word-based games, which is a huge source of fun and laughs!
I really enjoy our visits and spending time with Sharon. Although I don't ask for it, she makes a point of thanking me and it does feel good hearing the positive feedback and knowing I'm making even a small difference. – Sandro
Front row seats
Sharon used to work in the security industry, including working at shows at the Edinburgh Festivals for many years. A firm favourite for her was the Lady Boys of Bangkok and, as Sandro is also a fan of theirs, Ecas supported the pair to go and enjoy a front row seat at one of their performances at this year's festival. Ecas supported with travel arrangements and expenses and it was by all accounts a great experience.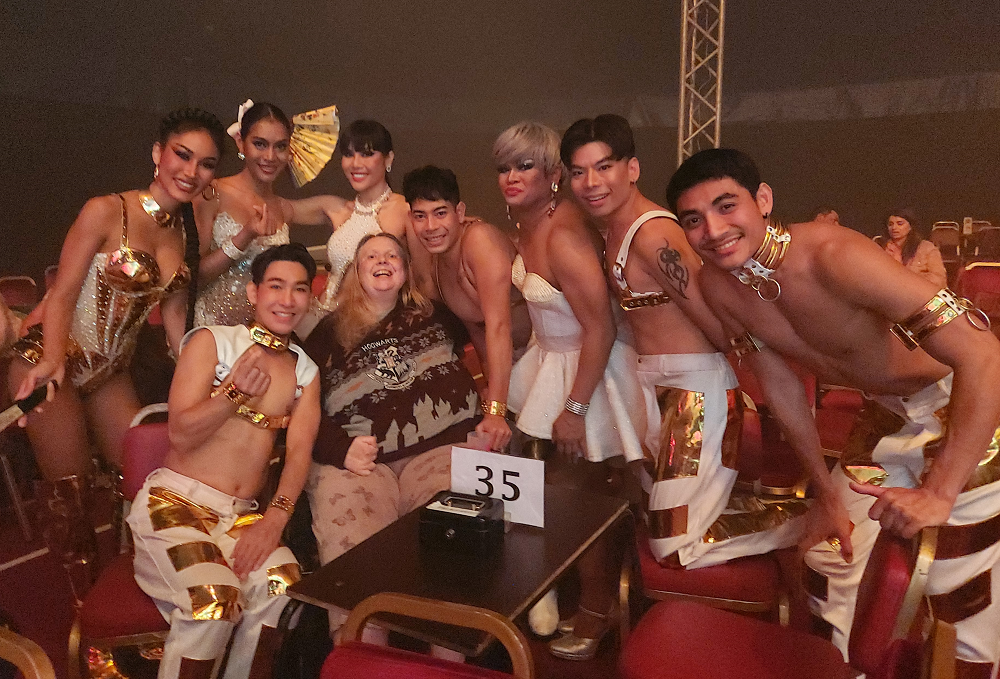 Amazing!! It was really nice and so great to be out and see the show again! The crew and cast recognised me and came over to say hello, ask how I was, hugs, smiles and a group photo! – Sharon
This was Sharon's first real social trip out in over two years and since then they have shared their love of nature with an afternoon at the Botanic Gardens and are planning for more trips. The Befriending team are always on hand for support if and when needed with regular catch ups scheduled in.
Interested in Befriending?
Live in Edinburgh and interested in being a Ecas Befriender?
Get in touch with Ecas today to find out more!
Speak with Sam on 07825 305 376
Email sam@ecas.scot 
Visit Becoming an Befriender for more information.